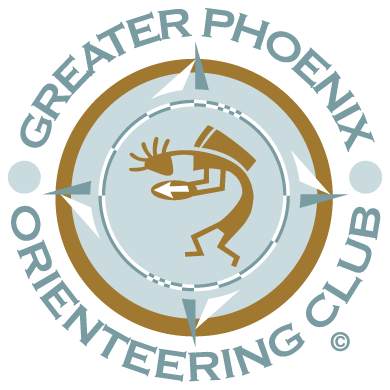 Adobe Dam Recreation Area
23280 N 43rd Ave
Glendale, AZ 85310
The Adobe Dam Recreation Area is a multi-use park located just south of the Pinnacle Peak/43rd Avenue intersection in North Glendale, Arizona. The park is split into a number of separate areas including an airfield for radio-controlled model aircraft, a model railroad complex, two karting race tracks, a paintball complex, an 18-hole golf course, a water park, and a multi-field softball complex. There is also a fairly substantial open area available for orienteering events.
The Recreation Area is located at the base of the Hedgepeth Hills in the plain behind Adobe Dam. The park's open areas contain a minimum amount of terrain variation. Navigation here relies more on using distance/bearing techniques and reading vegetation differences than other event locations. Because the site is located behind a working retainment dam, water is abundant after rainfall. The vegetation here is sometimes thick, but you don't have to worry as much about getting attacked by sharp cactus spines and needles. The Adobe Dam Recreation Area is an excellent place to explore in the heart of the Phoenix metropolitan area.
Directions
The Adobe Dam Recreation Area is located just south of the interestion of Pinnacle Peak Road and 43rd Avenue.
To get to the Adobe Dam Recreation Area:
Approaching via I-17

From the Pinnacle Peak exit of Interstate 17 in North Phoenix (exit 217), travel west 2.2 miles on Pinnacle Peak Road to the intersection with 43rd Avenue.



Approaching from the West via the Loop 101

Take the Loop 101 to the 59th Avenue exit (exit 19). Travel north on 59th Avenue/Pinnacle Peak Road for a total of 3.3 miles. The route on 59th Avenue enters Thunderbird Park after a little more than a mile, then winds to the east and becomes Pinnacle Peak Road.
To Continue to the Event Parking Area
From the intersection of 43rd Avenue and Pinnacle Peak Road, travel south 1.3 miles on 43rd Avenue to the intersection with Model Way. The signage here is not great, but there is a small sign indicating "Arizona Model Pilots Society" on the north east part of this intersection. Turn east on Model Way and travel about 500 meters to the event site.
Please note, parking for our orienteering events is available only on the south east side of this parking area. Please do not park on the north side of the parking area next to the model airplane airstrip. Members of the Arizona Model Pilots Society have been very gracious to allow us to use part of their area as a staging ground for our events. One way to show our gratitude is to minimize any interference we might have with their activities.
Maps
Click on a map below to open an equivalent Google map in a separate window.
Directions from I-17 to the Adobe Dam Event Site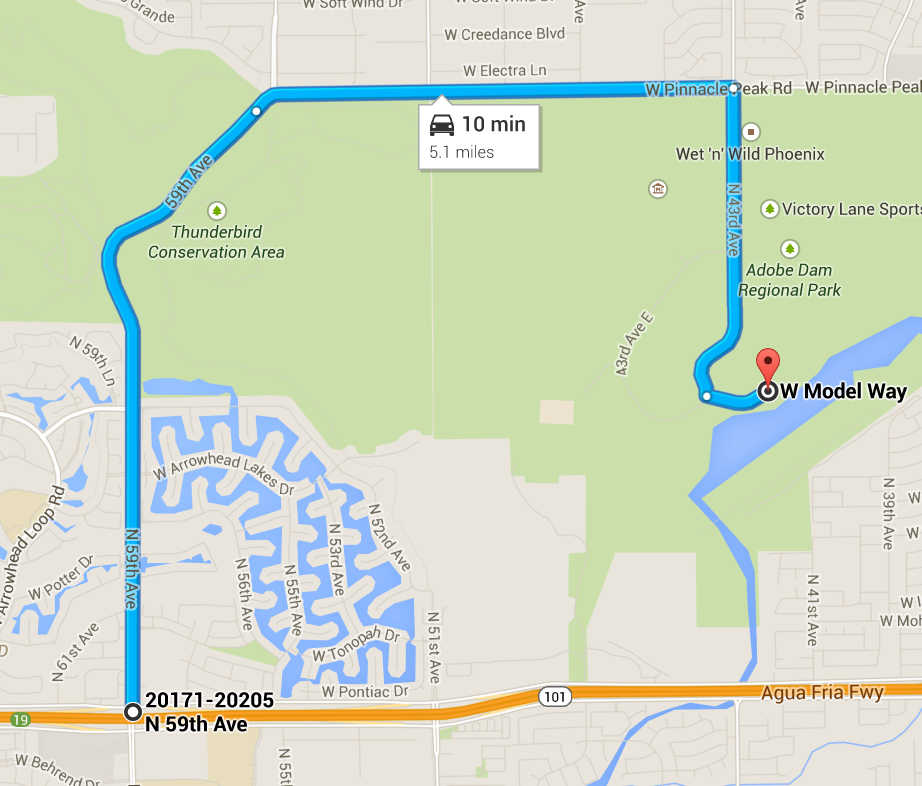 Directions from Loop 101 to the Adobe Dam Event Site