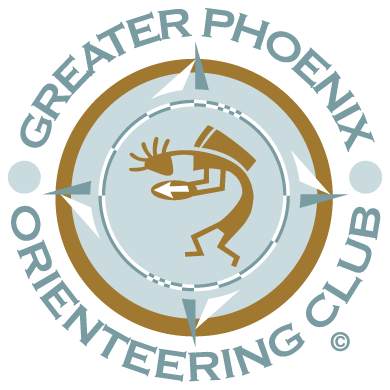 Spence Creek Directions
Prescott, AZ

The Spence Creek event site is a wonderful area in the hills just west of downtown Prescott. With a full forest covering and several water drainages, the site is a great place to get out of the Phoenix heat and practice your navigation skills. We're happy to have the opportunity to use the area for our favorite sport.
Directions
Google Maps Custom Instructions
Click here to automatically open a browser window to a Google Maps webpage with a marker at the Forest Trail 332 turnoff from Iron Springs Road.
(Destination Lat/Lon = 34.581892,-112.548845)
The event site is about 900 meters south on Forest Trail 332. The forest road is rough but accessible to passenger cars. Ample parking is available at the event start location.
Traditional Directions
From Phoenix to Prescott (Bypasses Prescott Valley and Prescott):

From the I-17/Loop 101 interchange in North Phoenix, travel north on Interstate 17 approximately 47 miles to Cordes Junction exit 262.
Exit I-17 at exit 262. Stay in the left lanes to merge onto AZ highway 69 towards Prescott.
Continue north and west on AZ 69 approximately 21 miles. Turn right at the signal for Fain Road (before you reach Prescott Valley). Follow Fain Road/Pioneer Parkway for ~16 miles until the road ends at Williamson Valley road.
Turn left onto William Valley road for ~ 2.5 miles until it ends. Turn right onto Iron Springs road and follow for 3 miles (past milepost 4) to the left turn onto the Tr332 parking area. The event site is about 900 meters past the gate--follow the signs.

From Courthouse Square to the Spence Creek Event Site:

From the northwest corner of Courthouse Square, travel north on Montezuma Street approximately one mile to where it curves to the west and turns into Whipple Street. Continue approximately 0.7 miles on Whipple Street to the intersection with Willow Creek Road/Miller Valley Road. At this point, the street in front of you is Iron Springs Road.
Continue west/northwest on Iron Springs Road approximately 4.4 miles to the unmarked road "Forest Trail 332". The turnoff is on the south side of Iron Springs road approximately 0.4 miles after milepost 4. An orange and white orienteering sign will mark the entrance to the road on the event day.
Parking for the event is about a quarter of a mile south down the forest road. Signs will direct you to the event parking.
Maps
Click on a map below to open an equivalent Google map in a separate window.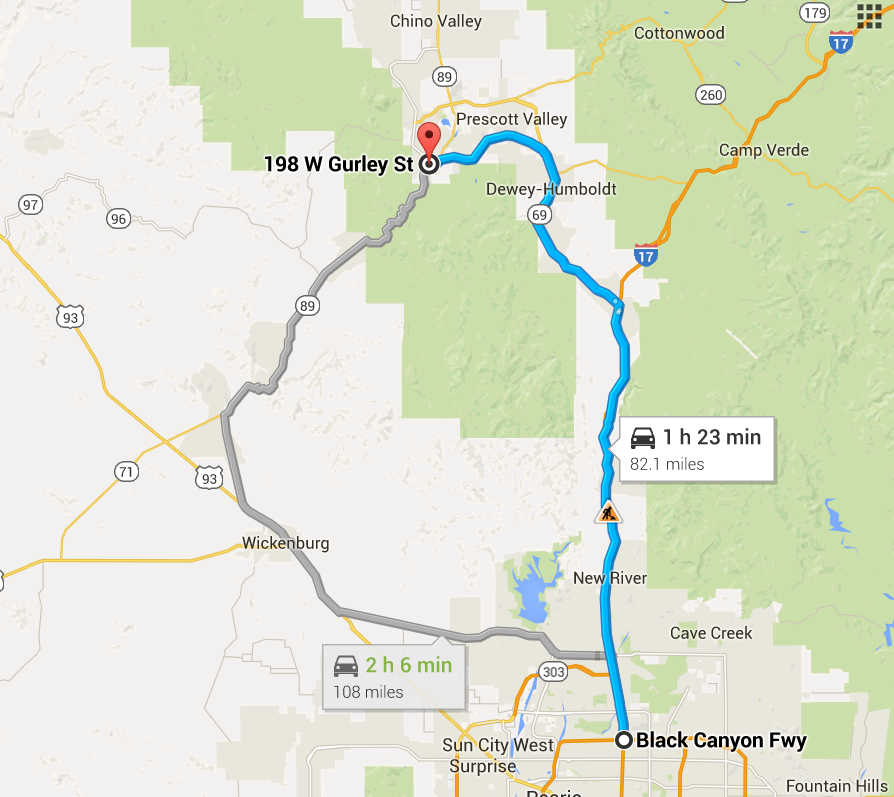 Directions from I-17 and Loop 101 in Phoenix to Spence Creek parking (bypasses Prescott Valley and Prescott)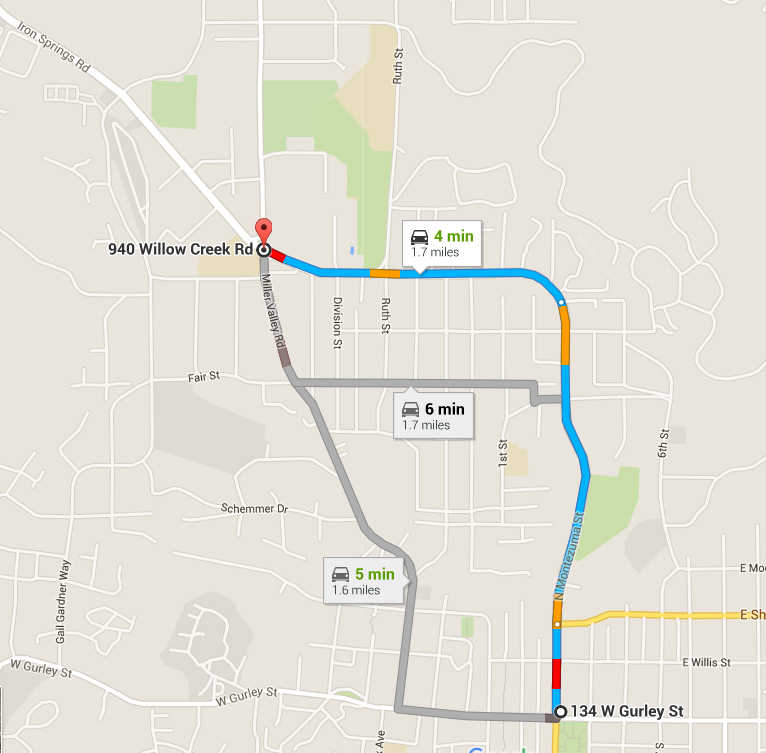 From Courthouse Square to Willow Creek/Iron Springs Intersection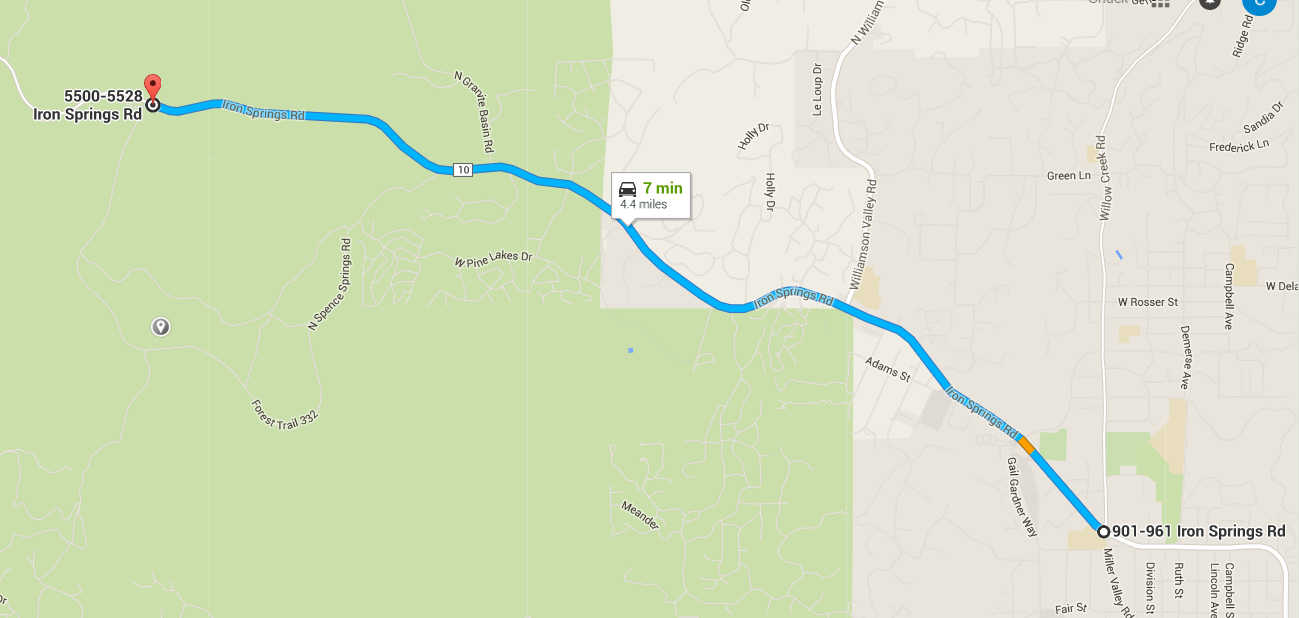 Directions from Iron Springs/Willow Creek Intersection to Forest Trail 332 Turnoff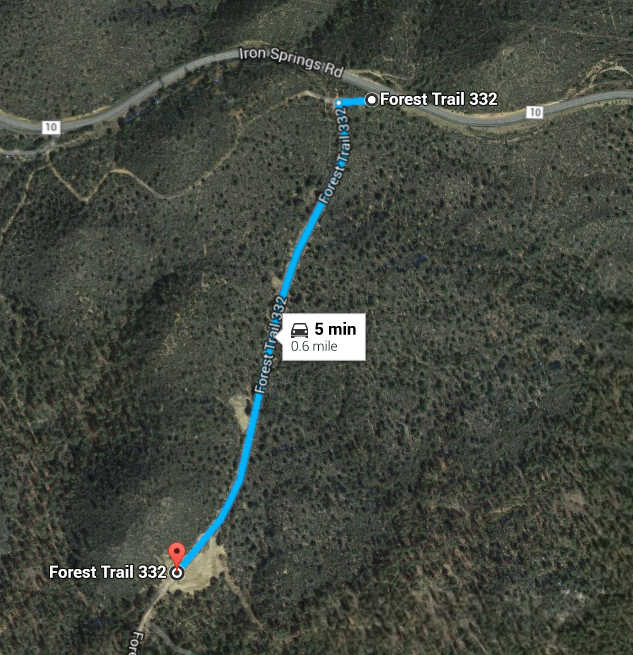 Directions from Forest Trail 332 Turnoff to Event Parking