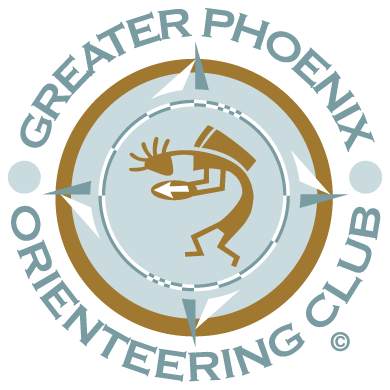 Spence Creek Orienteering Results
May 7, 2016
Glenn Haselfeld, Course Setter/Director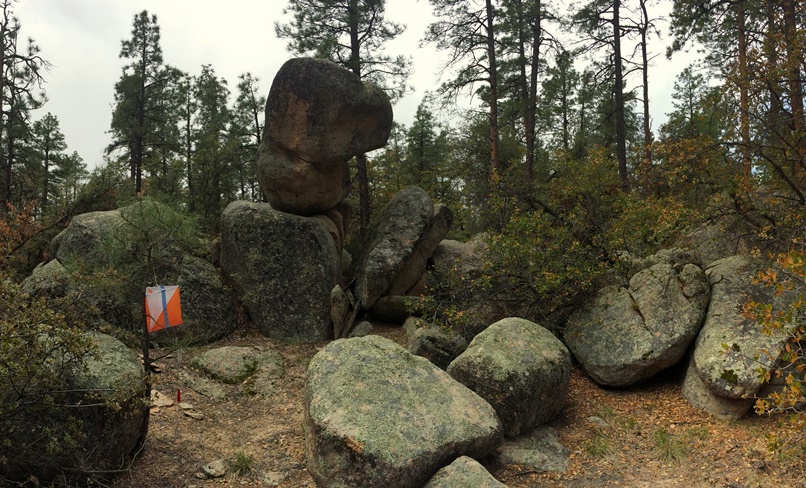 Control #12 on Green and Blue courses. Photo by Erik Ringnes
It was a cloudy and cool day (with even a bit of rain and hail) for running the Classic courses. We had a total of 34 orienteers out on foot and/or mountain bike. The advanced (Green and Blue) courses turned out to be a bit of a technical challenge, with slower-than-normal course completion times and several "did-not-finish" (DNF) results. Hopefully, as the logged areas grow back, the trails will become more distinct and the temporary paths will fade away.
For the Biking course, the Old-N-Phat team (Dave Sewell & Michael Taylor) easily won the event with a time of 2:32:50. Ron Birks had the second fastest time of 3:27:47. Ron (who had already completed the Blue course) was retrieving the controls while racing. Somehow, he has mastered riding a bike while draping 16 controls over one arm! Ron was also the only one to complete both the Bike and Foot events.
To see the routes taken on the Blue course by Ron Birks and Erik Ringnes, download the Blue tracks file. Ron's track is a magenta color, while Erik's is Green. You will note the different approaches to route choice--Ron took more trails, while Erik chose more off-trail approaches.
Thanks much to the volunteers for helping with the event, especially those who helped retrieve controls after completing a course: Ron Birks, Rick Eastman, Andy Wentzel, Erik Ringnes and Russ Pilcher.
Yellow Course Results
| | | | | | |
| --- | --- | --- | --- | --- | --- |
| Course | Length (km) | Elevation (m) | Equivalent distance (km) | Winning Time @ 8 min/km | # Controls |
| Yellow | 2.7 | 61 | 3.3 | 26 min | 12 |
| | | | | | | | |
| --- | --- | --- | --- | --- | --- | --- | --- |
| Place | Name | Team Size | Time Out | Time in | Time(hr: min: s) | Team Names | # Controls |
| 1 | Team Calderwood | TX | 10:47 | 12:30:00 | 1:43:00 | David Calderwood, Julie Calderwood | 12 |
| 2 | Team Ferguson | TX | 8:58 | 11:22:00 | 2:24:00 | Jason Ferguson, Coral Schultz, Parker Ferguson, Jason Ferguson Jr. | 12 |
| 3 | Lyddane | M | 11:59 | 14:15:00 | DNF | | 6 |
Orange Course Results
| | | | | | |
| --- | --- | --- | --- | --- | --- |
| Course | Length (km) | Elevation (m) | Equivalent distance (km) | Winning Time @ 8 min/km | # Controls |
| Orange | 4.9 | 134 | 6.2 | 50 min | 13 |
| | | | | | | | |
| --- | --- | --- | --- | --- | --- | --- | --- |
| Place | Name | Team Size | Time Out | Time in | Time(hr: min: s) | Team Names | # Controls |
| 1 | Tempe Terrors | TX | 10:42 | 13:23:00 | 2:41:00 | Magda Johnson, Erik Johnson | 13 |
| 2 | Willcox II | TM | 10:36 | 14:06:20 | 3:30:20 | Paul Willcox, Ben Willcox | 13 |
| 3 | Team Gunstra | TX | 11:00 | 14:22:00 | OT | Matt Gunstra, Amber Gunstra | 13 |
| 4 | Team Vintage | TX | 11:12 | 12:59:00 | DNF | Mary Jo Toledo, David Toledo | 4 |
| 5 | Carl Lind | M | 9:22 | 10:51:00 | DNF | | 4 |
Green Course Results
| | | | | | |
| --- | --- | --- | --- | --- | --- |
| Course | Length (km) | Elevation (m) | Equivalent distance (km) | Winning Time @ 8 min/km | # Controls |
| Green | 6.4 | 158 | 8.0 | 63 min | 16 |
| | | | | | | | |
| --- | --- | --- | --- | --- | --- | --- | --- |
| Place | Name | Team Size | Time Out | Time in | Time(hr: min: s) | Team Names | # Controls |
| 1 | Nakai Lake | M | 9:16 | 10:58:05 | 1:42:05 | | 16 |
| 2 | Russ Pilcher | M | 9:33 | 13:05:37 | 3:32:37 | | 16 |
Blue Course Results
| | | | | | |
| --- | --- | --- | --- | --- | --- |
| Course | Length (km) | Elevation (m) | Equivalent distance (km) | Winning Time @ 8 min/km | # Controls |
| Blue | 8.9 | 256 | 11.5 | 92 min | 20 |
| | | | | | | | |
| --- | --- | --- | --- | --- | --- | --- | --- |
| Place | Name | Team Size | Time Out | Time in | Time(hr: min: s) | Team Names | # Controls |
| 1 | Ron Birks | M | 9:37 | 11:41:42 | 2:04:42 | | 20 |
| 2 | Erik Ringnes | M | 9:30 | 11:55:37 | 2:25:37 | | 20 |
| 3 | Andy Wentzel | M | 11:18 | 14:02:01 | DNF | | 11 |
| 4 | Puddin's Peeps | TM | 10:20 | 12:41:40 | DNF | Rick Eastman, David Evans, Brian Geisler | 10 |
| 5 | Trunk Monkey | TX | 10:27 | 13:48:00 | DNF | Jill Kyle, Bryan Thelen | 10 |
| 6 | Team Mahoney | TX | 10:17 | 12:57:50 | DNF | Kevin Mahoney, Christie Christian | 6 |
Bike-O Results
| | | | |
| --- | --- | --- | --- |
| Course | Length (km) | Elevation (m) | # Controls |
| Bike-O | 23 | 350 | 16 |
| | | | | | | | |
| --- | --- | --- | --- | --- | --- | --- | --- |
| Place | Name | Team Size | Time Out | Time in | Time(hr: min: s) | Team Names | # Controls |
| 1 | Old-N-Phat | TM | 9:57 | 12:29:50 | 2:32:50 | Dave Sewell, Michael Taylor | 16 |
| 2 | Ron Birks (Retrieval) | M | 14:08 | 17:35:47 | 3:27:47 | | 16 |
| 3 | Hollon Kinney | M | 10:24 | 14:25:00 | OT | | 16 |
| 4 | Derek Young | M | 11:30 | 14:00:01 | DNF | | 11 |
| 5 | Lunatic Fringe | TM | 10:00 | 13:58:00 | DNF | Charles Phillips, Steve Winslow | 8 |
Combined Bike/Foot Challenge Race
| | | |
| --- | --- | --- |
| Place | Name | Combined Time |
| 1 | Ron Birks | 5:22 |
| 2 | Team Vintage | DNF |