---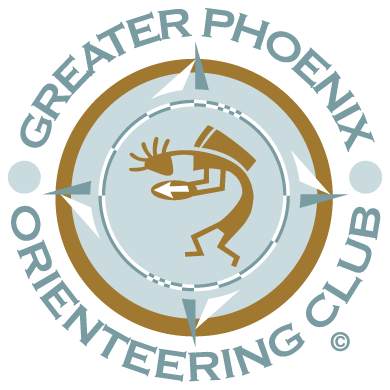 Fort Tuthill Results
Saturday, August 27, 2016
Writeup
We had a wonderful opportunity to team with Paul Kent of the Flagstaff Extreme Adventure Course to run an event at Fort Tuthill in Flagstaff. This is another new map for us that we were excited to put together.
The morning of the event started off with a huge thunderstorm at around 4:30am. We thought it might be over when arriving at the course at 7am and it was sunny. While hanging the beginner course it started to dump rain again.
The rain finally slowed down around 10am and we had an amazing 52 person turnout! The winner overall was Ron Birks who cleared the course with a time of 1:31! Others who also cleared the course in under the 2-hour time limit included Forest Brown, Erik Ringnes, and Andy Wentzel.
We'd like to thank everyone who helped with setup and tear down of the Tents and tables. A special thanks to Paul Kent for securing the location and inviting us to do a race at Fort Tuthill. We'd also like to thank Kevin Adams and Matt Zeilman for their work creating the map and scouting the course. Additional thanks to Ron Birks for working registration and control retrieval, Gary Hickey for running the timing table, and Andy Wentzel and Alex Lyddane for control retrieval.
Volunteers
| | |
| --- | --- |
| Course Setters: | Kevin Adams, Matt Zeilman |
| Meet Directors: | Kevin Adams, Matt Zeilman |
| Bag Hangers: | Kevin Adams, Matt Zeilman |
| Water Station Setup: | None |
| Equipment Hauling: | Ron Birks, Matt Zeilman, Kevin Adams |
| Setup/Tear-down: | Ron Birks, Kevin Adams, Matt Zeilman, Gary Hickey |
| Registration Table: | Ron Birks, Matt Zeilman, Kevin Adams, Gary Hickey |
| Timing Table: | Ron Birks, Matt Zeilman, Kevin Adams, Gary Hickey |
| Beginners Clinic: | Ron Birks, Erik Ringnes, Forest Brown |
| Control Retrieval: | Ron Birks, Matt Zeilman, Kevin Adams, Andy Wentzel, Alex Lyddane |
| Tabulating Results: | Matt Zeilman |
Summary
| | |
| --- | --- |
| Course Statistics | &nbsp |
| Total Points | 440 |
| Number of Controls | 18 |
| Straight-Line Distance (km) | 8.81 |
| Climb (m) | 207 |
| Total Participants | 52 |
| Number of Minutes | 120 |
| Penalty Per Minute | 10 |
Score-O Results
| | | | | | | | | | |
| --- | --- | --- | --- | --- | --- | --- | --- | --- | --- |
| Finish | Name | Total Points | Penalty | Final Points | Num Controls | Time | Category | Rank | Team Members |
| 1 | Ron Birks | 440 | 0 | 440 | 18 | 1:31:00 | M | 1 | |
| 2 | Forest Brown | 440 | 0 | 440 | 18 | 1:52:00 | M | 2 | |
| 3 | Erik Ringnes | 440 | 0 | 440 | 18 | 1:52:00 | M | 2 | |
| 4 | Andy Wentzel | 440 | 0 | 440 | 18 | 1:58:00 | M | 4 | |
| 5 | Rob Decot | 320 | 0 | 320 | 11 | 1:55:00 | M | 5 | |
| 6 | Slurm | 310 | 0 | 310 | 14 | 1:54:00 | TX | 1 | Matt Hanly, Bianca Hanly |
| 7 | Gold Cobra | 310 | 0 | 310 | 13 | 1:56:00 | M | 6 | Matt Gunstra |
| 8 | Gary Hickey | 290 | 0 | 290 | 11 | 1:58:00 | M | 7 | |
| 9 | Russ Pilcher | 270 | 10 | 260 | 13 | 2:01:00 | M | 8 | |
| 10 | Team RamRod | 230 | 0 | 230 | 12 | 1:52:00 | TX | 2 | Garth Schultz, Michelle Barton |
| 11 | Daniel Yamashiro | 230 | 0 | 230 | 8 | 1:54:00 | M | 9 | |
| 12 | Team Jasper | 230 | 0 | 230 | 11 | 1:57:00 | TM | 3 | Terry Jasper, Chad Jasper |
| 13 | Bruce and Judy | 210 | 0 | 210 | 9 | 1:54:00 | TX | 4 | Bruce Donaldson, Judy Donaldson |
| 14 | Paul and Ben | 190 | 0 | 190 | 7 | 1:50:00 | TM | 5 | Paul Wilcox, Ben Wilcox |
| 15 | Bozzie Again | 170 | 0 | 170 | 8 | 1:55:00 | TM | 6 | James Bosworth, Tyler Bosworth, Dylan Bosworth |
| 16 | Ike Alred | 160 | 0 | 160 | 9 | 1:49:00 | M | 10 | |
| 17 | David Thompson | 160 | 0 | 160 | 11 | 1:54:00 | M | 11 | |
| 18 | Save Pluto | 60 | 0 | 60 | 4 | 1:16:00 | TX | 7 | Paul Kent, Cooper Kent, Rhonda Kent, Finley Kent |
| 19 | Team Bozzie | 20 | 0 | 20 | 2 | 1:56:00 | TM | 8 | James Bosworth, Tyler Bosworth, Dylan Bosworth |
| 20 | Kurt Korpong | 120 | 120 | 0 | 6 | 2:12:00 | M | 12 | |
| 21 | Brown Sprout | 10 | 160 | 0 | 1 | 2:16:00 | TM | 9 | Duncan Brown, Silas Sprout |
| 22 | Alex Lyddane | 80 | 260 | 0 | 5 | 2:26:00 | M | 13 | |
| 23 | Team Bilt | REC | REC | 0 | 5 | REC | TX | REC | |
| 24 | Hawkes | REC | REC | 0 | 5 | REC | TX | REC | Catalena Hawkes, Sawyer Hawkes, John Hawkes, Kelsey Hawkes, Donny Landerville |
| 25 | Jane Randolph | REC | REC | 0 | 5 | REC | F | REC | |
| 26 | Craig Joyner | REC | REC | 0 | 5 | REC | M | REC | |
| 27 | Ann Tian | REC | REC | 0 | 2 | REC | F | REC | |
| 28 | Troop 71 | REC | REC | 0 | 0 | REC | TM | REC | |