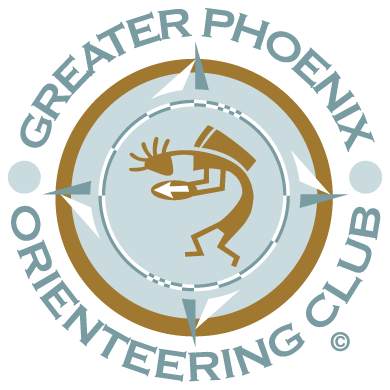 First Water OUSA National Ranking Event
Sunday, February 25, 2018
Superstition Mountains, AZ
Latest update: 2018-02-22 Link to Start times added
Previous update: 2018-02-16 Updates include: Course statistics table added; Starts at 4 min intervals vs. 2 min. Sample maps will be available at the Needle Vista event registration desk on Saturday.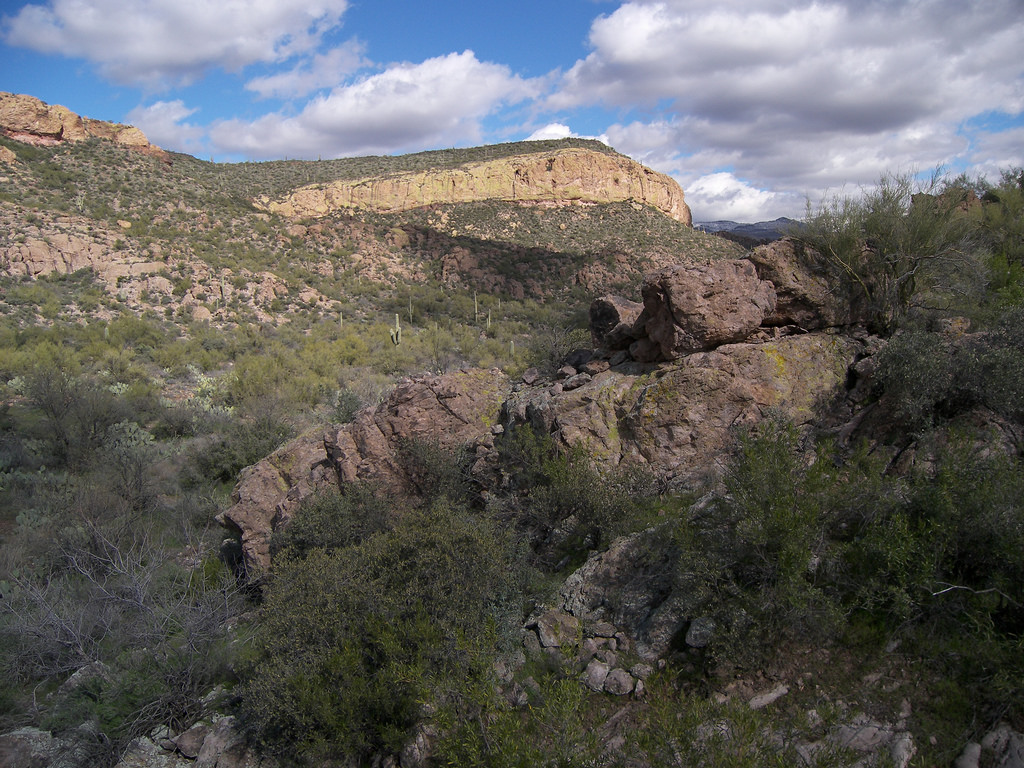 The Greater Phoenix Orienteering club is excited to host our FIRST EVER Nationally Sanctioned event. This is the final event for the Tucson/Phoenix Southwest Spring Week. Since it's a first time for us, the sanctioned race will be limited to one day. GPHXO is, however, offering local meets on Saturday and Sunday evening at a nearby location.
The First Water trailhead is located about 37 miles east of Phoenix, AZ. The map terrain is lush Sonoran Desert vegetation with topography varying from moderately flat desert to rolling hills. There are some spectacular views of the Superstition Mountains to the east and south. The weather is typically sunny and dry, with a high temperature of about 70 degrees.
A full complement of classic courses will be offered. All maps will be printed at 1:10,000 scale. >Due to limited on-site parking, registration is limited to 100 competitors. There will be no on-site registration for the competitive race categories.
We will be offering the following Classic courses (details subject to change). Due to our rather rocky terrain, the pace will be slower and thus the course lengths are shorter. There is a 250 m walk to the start from the parking area.
Course
Level
Map scale
Length (km)
Elevation Gain (m)
Equivalent distance (km)
Pace (min/km)
Winning Time (min
Number of Controls)
White
Beginner
1:10k
2.2
79
3.0
8.0
24
12
Yellow
Beginner
1:10k
3.1
104
4.1
8.0
33
12
Orange
Intermediate
1:10k
4.3
134
5.6
8.0
45
11
Brown
Advanced
1:10k
3.7
128
5.0
9.0
45
11
Green
Advanced
1:10k
5.2
165
6.9
8.0
55
11
Red
Advanced
1:10k
6.5
177
8.3
7.8
64
15
Blue
Advanced
1:10k
8.8
189
10.7
7.5
80
16
Registration
Fees are $20 for adults and $6 for juniors. Click here to register. Registration will be open until February 15. SI cards (e-sticks) are available for rent at no charge through the registration website.
Start times
Assigned start times will be between 9 AM and 11 AM. Courses will close at 1:00 PM.
Start Procedure
This event will be using electronic punching. The starts will be at four minute intervals.
Clear and check you SI card when you arrive at the start area.
You will be called up 8 minutes before your scheduled start. You may pick up your loose control descriptions at this time.
4 minutes before your start, you will move forward to the start line. You may mark your name/number on the back of the map. Do not look at your map. You may ask the starter to check that you have picked up the correct map.
When the starter announces that you have reached your start time, you may punch "start" and look at your map.
Schedule:
| | | |
| --- | --- | --- |
| | Date | Time |
| Last day for on-line registration | Mon. Feb. 15 | 11:59 PM |
| Sample Map area / map walk | Sat. Feb. 24 | All day |
| Check-in open at First Water Trailhead parking area | Sun Feb. 25 | 9:00 AM - 11:00 AM |
| Awards | Sun. Feb. 25 | 1:00 PM or earlier |
| Courses closed to all participants | Sun Feb. 25 | 1:00 PM |
Recreational courses
There will be limited on-site registration for "Recreational" participants for the White, Yellow and Orange courses. We will make an announcement as to how many slots are available after the on-line registration closes.
Sample Map Area
There will be a small area located at the Needle Vista viewpoint for familarization with the map, particularly for mapping of cholla cactus. This is also the location for GPHXO's Saturday meet and night-o. The area will be available all day Saturday--pick up a copy of the map at the Needle Vista event registration area. For details on the First Water map, click here.
What to bring:
Whistle
Mandatory for all. Available for purchase for $1
Compass
Mandatory for all. Available for rent for $1
Sun screen.
There is no shade on the course.
Water
There will be water at the start/finish . We will also have one or two water stations on the course. However, you are strongly encouraged to bring your own water bottles or a camelback.
Sturdy hiking shoes and
Long pants
You will encounter cactus, cat claw, and loose terrain.
------>